The Federation of Dental Hygiene Regulators of Canada (FDHRC) and the National Dental Hygiene Certification Board (NDHCB) amalgamated effective January 1, 2022.
The new organization is operating as the FDHRC.
Entry to Practice Canadian Competencies in Dental Hygiene (EPCCoDH)
Frequently Asked Questions
By when does my education program need to implement the EPCCoDH?
The National Dental Hygiene Certification Examination will reflect the EPCCoDH starting in May 2026. The new Blueprint based on the EPCCoDH will be published in late spring or early summer 2025. Implementation timelines may vary by institutions depending on the length of your program and accreditation cycle.
What is Bloom's Trajectory?
In developing the 2021 Entry to Practice Canadian Competencies for Dental Hygiene (EPCCoDH), the FDHRC chose to use Bloom's Trajectory to describe the level of proficiency expected at an entry to practice level for each competency.
Bloom's Trajectory specifies the proficiency separately for:
• Knowledge domain (including facts, ideas/theories/concepts)
• Skills domain:
o Physical skills (requiring dexterity—for example, giving an injection or driving a car) and
o Mental skills (requiring thinking—for example, using a spreadsheet, speaking a language, or following a protocol)
The levels of knowledge and skills are further described on page 29 of the EPCCoDH (2021).
For example, think about applying the Trajectory to the various stages of learning to drive a car: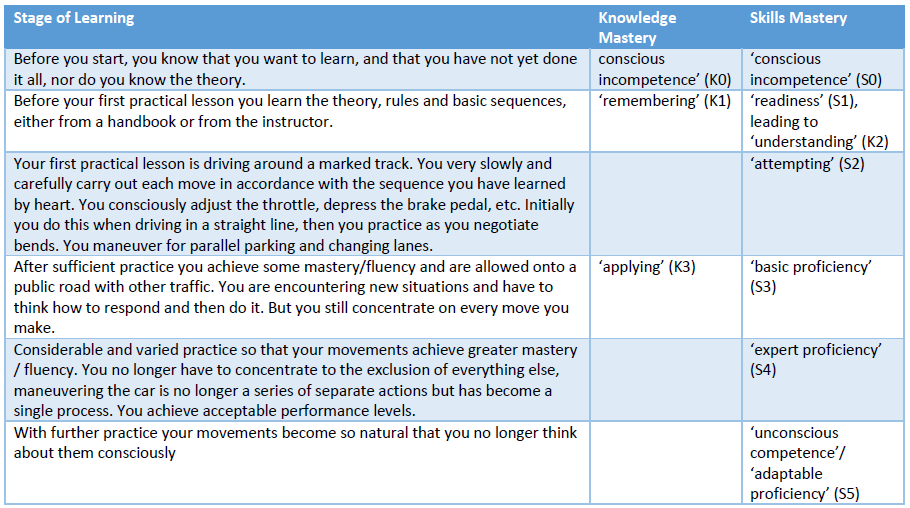 How does the EPCCoDH compare with the 2010 Competencies?